Mosaic: Global Issues Push Prices Up
Mosaic: Several Factors Driving Up Fertilizer Costs; Some Groups Disagree
Russ Quinn
DTN Staff Reporter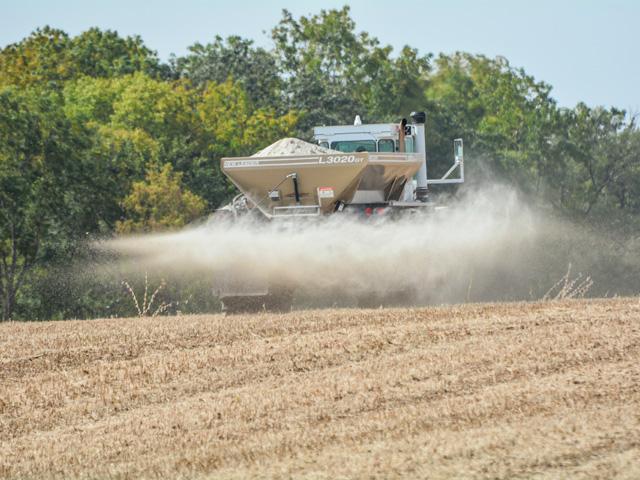 Mosaic, which pushed for tariffs on phosphate imports earlier in 2021, believes there are several other reasons for high fertilizer prices.
(DTN photo by Matthew Wilde)
OMAHA (DTN) -- The countervailing duties on Moroccan and Russian phosphate exports Mosaic pushed for earlier 2021 are not the reasons farmers are now seeing significantly higher fertilizer prices, according to a Mosaic official. The real reasons for extremely high fertilizer prices include higher fertilizer demand, supply disruptions and increasing costs associated with manufacturing fertilizer, the official said.
Despite these claims, some ag groups are not pleased with Mosaic and are asking for them to end fertilizer tariffs. One U.S. senator announced Friday he is asking for a Department of Justice (DOJ) investigation into fertilizer prices.
NOT MOSAIC'S FAULT
Andy Jung, Mosaic vice-president of market and strategic analysis, told DTN that despite the trade dispute, phosphate imports into the U.S. hit a record level in 2021. U.S. phosphate imports have increased by 1.3 million metric tons (mmt) in 2021, which is 57% higher than during the same January-to-November period in 2020.
While trade patterns have changed, nothing with the tariffs have changed overall supply of phosphate in the world or in the U.S., he said.
If anything, this situation has resulted in a more balanced and fair-trade market. This creates a more competitive environment with trusted and reliable suppliers for American farmers and American agriculture long term, he said.
Jung said Mosaic is committed to U.S. farmers, and because of this, the company adjusted their typical trade volumes in the global market. They have purposely diverted fertilizer tons away from the international market to boost availability domestically.
"Normally, it is roughly 50% domestic and 50% into the international market, but now we put 60% into the domestic market and 40% in the international market," Jung told DTN.
Jung said the phosphate price in the U.S. is anywhere from $20 to $100 per ton less compared to other parts of the world. Other markets, such as India, have seen a greater increase in price because of the lack of Chinese phosphate exports into the world market.
NCGA v. MOSAIC
While Mosaic said the countervailing duties did not have an effect on the higher fertilizer prices, other groups disagree.
The National Corn Growers Association (NCGA) issued a news release Friday saying they sent a letter to Mosaic urging the company to end the fertilizer tariffs and to "stop engaging in irresponsible corporate behavior."
"Mosaic's posture to date has been a masterpiece of irresponsible corporate social responsibility," the letter said. "We ask you voluntarily withdraw your countervailing duties and allow critical supply back into the U.S. at a time of inadequate supplies and soaring phosphate prices."

Russ Quinn is a DTN editor and reporter. He was born and raised in east central Nebraska on a cow-calf and row-crop farm near Elkhorn,
which he still operates with his dad.

Russ attended Iowa Western Community College in Council Bluffs, Iowa, and graduated with an associate's degree in agribusiness and farm management in 1994. He then attended the University of Nebraska in Lincoln, Nebraska, and graduated with a bachelor's degree in agricultural sciences in 1996.

After graduating, he began working for DTN in May of 1997 in the agriculture telesales department. In May of 1998 he was promoted to his current position in the DTN ag newsroom. Over the years, Russ has had many different editing and reporting duties and currently writes original articles including the growing-season series "View From the Cab" and the weekly column "Russ' Vintage Iron."
Green Play Ammonia™, Yielder® NFuel Energy.
Spokane, Washington. 99212
www.exactrix.com
509 995 1879 cell, Pacific.
Nathan1@greenplayammonia.com
exactrix@exactrix.com