Green
Biden Climate Agenda Now Hinges on Rules Exposed to Rewrite
By Ari Natter and Jennifer A Dlouhy December 19, 2021
Manchin dashes hopes for bill with record climate funding

'Impossible to get from here to there without these'
President Joe Biden will need to rely far more on regulation to meet his promise to cut greenhouse gas emissions in half by 2030, after his roughly $2 trillion economic plan and its crucial climate provisions suffered a potentially fatal setback in Congress.
The tax-and-spending bill rejected Sunday by West Virginia Democratic Senator Joe Manchin included a record $550 billion for climate measures, including a slew of tax credits for clean energy generators, the nuclear power industry and the makers of electric vehicles. As passed by the House, the Build Back Better bill included a first-time fee on the emission of methane from oil and gas operators.
"It's a big setback," Kevin Book, managing director of research firm ClearView Energy Partners, said of the bill's likely failure in an interview.
2022 Is a Year to Call Out Greenwashing in China
Europe's Energy Prices Soar as a Deep Freeze Arrives
It may still be possible for Biden to fulfill the U.S. pledge to pare greenhouse gas emissions 50% to 52% by the end of the decade without the legislation -- but it won't be easy and it will require a rapid, aggressive ramp up in federal regulation targeting greenhouse gas emissions from every sector of the economy. And even then, regulations can be challenged in court or rolled back by succeeding administrations.
Book's group, in a research note Sunday, said it would "not yet bet against" legislation being passed to provide long-term green power tax credit extensions though they may be reduced in duration and scope.
Still, the Washington-based group said the White House was likely to respond by utilizing other means to accelerate a green transition including regulations and "federal government 'superpowers'" that include closing federal lands to drilling, export finance and government procurement of clean energy as well as financial requirements for disclosure and insurance.
The Biden administration is already moving to impose more stringent limits on car and truck emissions, cap methane leaks from oil wells and clamp down on greenhouse gases from power plants. It is also developing a slew of new efficiency standards that would limit energy usage for common household appliances.
Read more: Green Stocks Drop on Rejection of U.S. Bill With Record Funding
The world's biggest solar module maker, Longi Green Energy Technology Co., fell as much as 2.3% Monday in Shanghai, while Trina Solar Co. tumbled 6.1%. Japanese solar cell equipment producer NPC Inc., which gets about 23% revenue from the U.S., slipped as much as 3.7%, and Korean solar manufacturer Hanwha Solutions Corp. dropped 1.9%.
A bipartisan infrastructure bill signed into law earlier this year included billions for climate. But not nearly on the scale in the Build Back Better act that Democrats were hoping to pass through a procedure that avoids a filibuster but requires the support of the entire caucus.
As passed by the House in November, the Build Back Better bill would have barred oil drilling in most U.S. waters and Alaska's Arctic National Wildlife Refuge, but analysts said the most impactful climate measure was some roughly $300 billion to expand tax credits for renewable power, biofuels, energy efficiency and electric vehicles. The bill also included an increase in tax credits for power plants and other facilities that employ carbon capture technologies, and new tax credits for energy storage, transmission projects and hydrogen production.
What on Earth?
The Bloomberg Green newsletter is your guide to the latest in climate news, zero-emission tech and green finance.
Sign up to this newsletter
Other highlights: an expansion of a $7,500 tax credit for consumers who purchase electric vehicles, along with a $4,500 bonus for cars made from unionized domestic plants that was seen benefiting Ford Motor Co. and General Motors Co., and nearly $6 billion for the U.S. Postal Service purchase of electric mail trucks and charging infrastructure, a move traders have seen as positive for Loveland, Ohio-based electric vehicle manufacturer Workhorse Group Inc.
Representative Sean Casten, a Democrat from Illinois, lamented on Sunday opposition to the bill in the evenly divided Senate by all the Republicans and Manchin. He called them "51 senators who don't give a damn about climate, even as climate-fueled disasters are costing the U.S. ~$2 billion in damages every single week we delay action."
Vows to Fight
Supporters vowed to continue the fight. Senate Finance Chairman Ron Wyden in a statement floated the idea of a package focused on child tax credits and renewable energy incentives along with provisions to lower healthcare and prescription drug costs.
"Failure is not an option here," Wyden said. "This is our last chance to prevent the most catastrophic effects of the climate crisis."Renewable energy companies that had been counting on long-term extensions of the tax credits also pledged to keep pressing.
"This is not over," Gregory Wetstone, president of the American Council on Renewable Energy, said in a statement Sunday. "We will be working with Congress to find a way forward and deliver the clean energy future Americans want and deserve. Failure is not an option."
Likewise, Erin Duncan, vice president of congressional affairs at the Solar Energy Industries Association, said "this is not the end of the road."
"There have been many twists and turns in this legislation," Duncan said in a statement. "We will continue to advocate aggressively for policies that deliver jobs and clean energy to every state across America."
With assistance by Brian Eckhouse, Will Wade, Luz Ding, and Dan Murtaugh
---
Hyperdrive
EVs to Account for 30% of China Market Next Year, Lotus CEO Says
Bloomberg News
December 14, 2021, 10:58 PM PST
More intelligent features will help drive sales, Feng says

Automaker aims to complete latest fundraising by March
Electric vehicles will grab a larger share of China's auto market next year as carmakers add more intelligent features, according to Group Lotus Chief Executive Officer Feng Qingfeng.
"EVs will be the brightest spot in China's auto market next year and likely account for 30% of new auto sales or higher," Feng said in an interview in Beijing Wednesday. "Another explosive driving force is that the intelligence level of EVs will see great advancement next year -- understanding consumers better and being able to make more decisions independently."
Lotus Tech, which develops cars for the Lotus brand, is tapping the potential for sports cars in the world's biggest auto market against a small pool of competitors including Porsche Automobil Holding SE and BMW AG. New energy vehicles, which include plug-in hybrids and electric cars, accounted for just under 13% of China's auto market in the first 11 months of this year.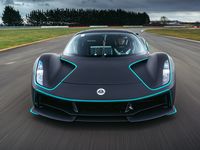 The all-electric Lotus Evija hyperecar.
Source: Lotus
More from
2022 Is a Year to Call Out Greenwashing in China
Europe's Energy Prices Soar as a Deep Freeze Arrives
Lotus Tech, which began building its global headquarters in the Chinese city of Wuhan in August, has completed construction of its plant in the city, with mass production slated to start at the end of 2022, Feng said.
The company has been working on preliminary plans for an initial public offering in the U.S. or Hong Kong as soon as 2023. It aims to complete its latest funding round of between $400 million to $500 million by March, valuing the company at between $5 billion to $6 billion, Feng said.
Lotus is part of the auto empire of Li Shufu, who founded Zhejiang Geely Holding Group Co. and has long held ambitions of developing top-end sports cars. The unit plays an important role in the group, which offers diverse products ranging from affordable mass-market vehicles to the ultra-luxury racing cars made by Lotus.
Building on Chinese drivers' appetite for high-performance sports cars, half of Lotus's sales may come from China in five years, when annual global deliveries are forecast to reach about 120,000 to 150,000 units a year, Feng said earlier.
With assistance by Ying Tian
Energy & Science
The World Is Burning the Most Coal Ever to Keep The Lights On
By Todd Gillespie
December 16, 2021
Coal-powered energy generation seen rising 9% this year: IEA

World's trajectory threatens 2050 net-zero emissions goal
The world likely will generate more electricity from the dirtiest source this year than ever before, indicating just how far the energy transition still needs to run in the fight against climate change.
Coal-fueled generation is set to jump 9% from last year, according to an International Energy Agency report released Friday. That U-turn from the declines of the previous two years threatens the world's trajectory to reach net-zero emissions by 2050, the organization said.
The U.S. and European Union had the biggest increases in coal use at about 20% each, followed by India at 12% and China -- the world's largest consumer -- at 9%, the IEA estimated. The comeback is being driven by economic recovery from the Covid-19 pandemic, which is outpacing the ability of low-carbon energy sources to maintain supply.
"Coal is the single largest source of global carbon emissions, and this year's historically high level of coal power generation is a worrying sign of how far off track the world is in its efforts to put emissions into decline toward net zero," IEA Executive Director Fatih Birol said.
Record natural gas prices have increased reliance on other sources, including coal, and amplified calls for faster investments in renewables. Power prices in Europe have more than tripled in the past six months, and it's become more profitable to burn coal than gas. Still, utilities have struggled to get their hands on it even as China and the U.S. boost production.
Carbon-dioxide emissions from coal in 2024 are now predicted to be at least 3 billion tons higher than in a scenario reaching net-zero by 2050, the report said. The IEA expects peak coal to occur next year at 8.11 billion tons, with the biggest production increases coming from China, Russia and Pakistan.
Coal Consumers
China is increasing its vast coal use as other regions reduce it
Source: IEA Coal 2021 report
The Paris-based IEA said in May that development of new oil, gas and coal sources must stop this year if the world is to meet emissions targets in line with the Paris Agreement. Climate campaigners were dismayed in November when a key aspiration of the United Nations' COP26 climate summit in Scotland was watered down to produce a pledge to "phase down" -- rather than "phase out" -- coal use. U.S. President Joe Biden's administration since has halted federal aid to new fossil-fuel projects abroad.
Some banks have pledged to phase out their financing of coal, though activists want to see greater urgency. This year, coal demand as a whole -- for power generation as well as cement and steel production -- is set to rise by 6%, the IEA said.
That demand could set a record next year, depending on economic growth and weather patterns, the agency said. One Australian exporter predicts strong demand for at least two more decades.
Regional disparities in use are playing out globally as Europe shuts down coal power stations while China and India step up production. The European Union ramped up its climate pledge in July, targeting a 55% drop in greenhouse gas emissions by 2030, relative to a 1990 baseline, with a transition to cleaner sources at the center. It's a tough target, especially considering that countries such as Poland and the Czech Republic primarily power themselves with coal and lignite.
For now, China accounts for about half of global coal production and needs to meet rising domestic demand. The government has pressured miners to reduce prices and lower the cost of burning coal during this year's energy crisis, which triggered blackouts and rationing in the country.
"It is disappointing that coal power may hit an all-time high in the very same year that countries agreed to phase it down," said Dave Jones, global program lead at climate think-tank Ember. "Coal power will inevitably begin to decline soon: China has committed to phasing down coal from 2025, while India's huge renewables target should remove the need for more coal."
Green Play Ammonia™, Yielder® NFuel Energy.
Spokane, Washington. 99212
www.exactrix.com
509 995 1879 cell, Pacific.
exactrix@exactrix.com