Spanish Ramp of Green Ammonia and Hydrogen, 800 mega watt capability.

Puertollano plant for green hydrogen October 1, 2021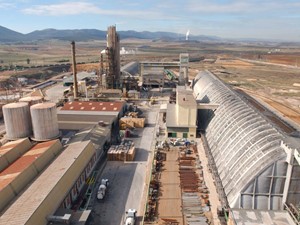 Fertiberia's Puertollano ammonia production plant, which is being prepared for solar-to-ammonia production. Source: LanzaDigital.
In the coming weeks new piping infrastructure will be built to connect Fertiberia's Puertollano ammonia production plant and 20 MW of on-site (but to-be-installed) electrolsyers.
Fertiberia's plans for green ammonia production at the plant were first announced in October 2020, and took another step forward in June after contracts were awarded for electrical works. This latest development (Spanish language) is part of Fertiberia's every-four-years shutdown of plant production for maintenance and improvement works. In an interview with local Spanish press, Fertiberia Group Director José Antonio Cabello indicated there will be a role for hydrogen power generation, along with it acting as a feedstock for green ammonia:
We are facing a technical challenge of the first magnitude. Iberdrola – through its electrolysers powered by solar plants – will provide us with the green hydrogen that should allow us to manufacture green ammonia…This forces us to develop internal innovations within the ammonia plant, since we will have to adapt our operations to the intermittent production curve of renewables.
In our case there is an additional complexity: for most industrial companies green hydrogen is an energy flow, but for us it is 70% a raw material and 30% an energy flow. Given that we will be pioneers, we will contribute from Puertollano an experience of great value to the whole of the Spanish industrial sector, which to a greater or lesser extent is studying the applications of green hydrogen and which will require the study of success cases to undertake its different projects.
José Antonio Cabello, Fertiberia Group Director interviewed in Fertiberia Puertollano instala en su parada programada el sistema de tuberías para recibir el hidrógeno verde desde Iberdrola, LanzaDigital, 22 September 2021
800 MW electrolysers across two production sites
As already reported, Fertiberia and Iberdrola's portfolio of solar-to-ammonia projects will total 800 MW of electrolsyer capacity by 2027. In a recent presentation at our virtual Australia conference, Robert Ludecke from Iberdrola Australia added some more details and gave us a first look at what the Puertollano site will look like: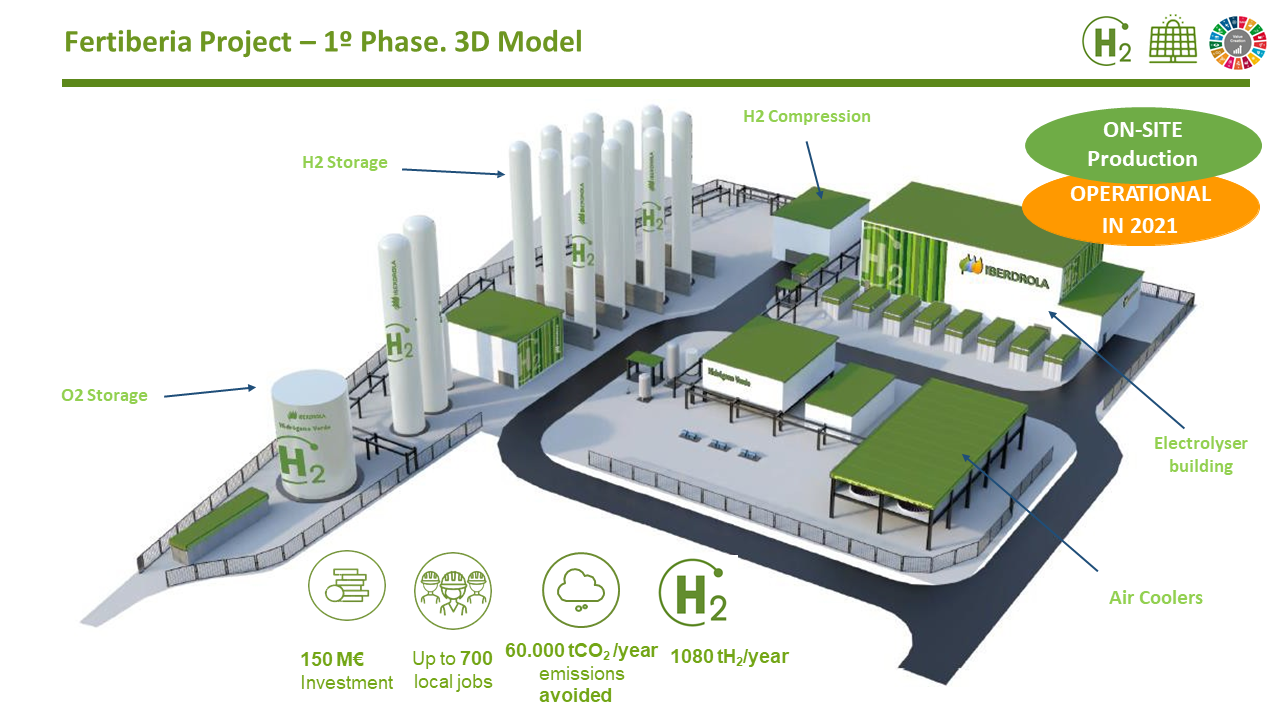 Ammonia, presented at our recent Australia conference.
Green Play Ammonia™, Yielder® NFuel Energy.
Spokane, Washington. 99212
www.exactrix.com
509 995 1879 cell, Pacific.
exactrix@exactrix.com