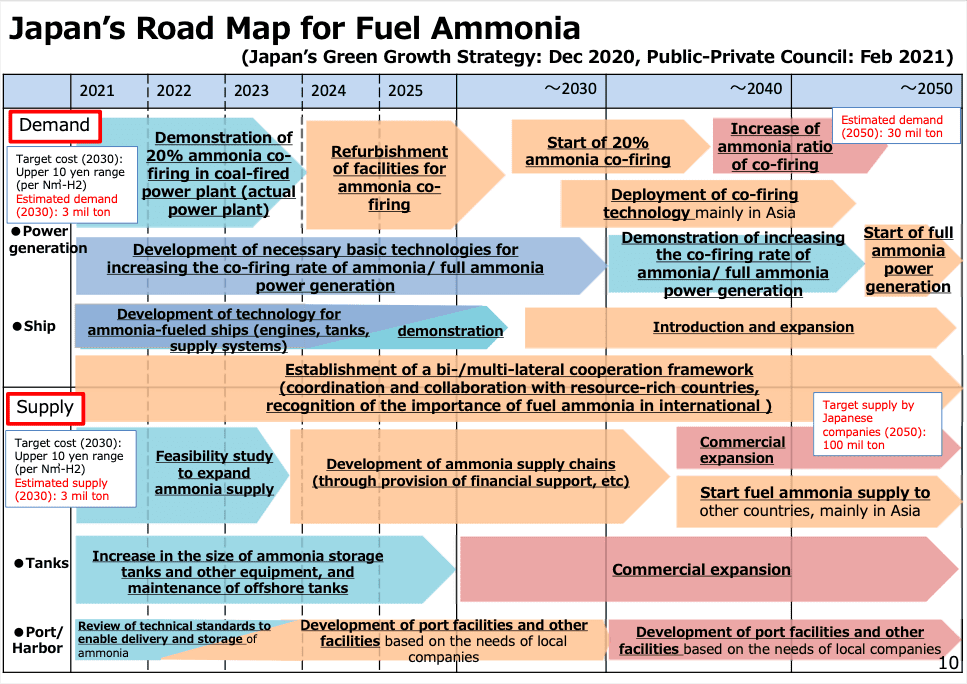 2. Japan's roadmap for fuel ammonia. Source: Japan's Ministry for Economy, Trade, and Industry (METI)
Japan Ramps up Ammonia Power Generation
How "green ammonia" will be used is also of growing interest. Several countries have outlined ambitions to integrate ammonia in their future energy system, including as a fuel for fuel cells and internal combustion engines. Japan, which prominently leads these efforts, envisions a substantial role for ammonia power generation. An updated overview of its "green growth" strategy issued by Japan's Ministry for Economy, Trade, and Industry (METI) this February, for example, suggests "full ammonia power generation" could be demonstrated by 2045. An associated roadmap (Figure 2) also lays out a vast ammonia supply chain expansion that will render the country into a regional exporter of ammonia fuel.

2. Japan's roadmap for fuel ammonia. Source: Japan's Ministry for Economy, Trade, and Industry (METI)
"Our goal is to make corn Ethanol Greener using Green Play Ammonia."

"We can make Green Play Ethanol the choice at your local fuel stop."

" Across the heartland we can move to much higher levels of green ethanol mixtures at the Ethanol Pump."

---
A more compatible approach for the heartland.
The saving grace for current automobiles of the next 10 to 20 years maybe lowest possible carbon, methane and nitrous oxide by burning clean ethanol made from No-tillage Exactrix TAPPKTS corn.
No-tillage corn production with a green cover crop producing good corn and soybean crops controlling nitrous oxide. Applying Zero Carbon Ammonia and Low carbon P and K in production plants powered by Green NH3.
In fact Green Ammonia built locally with the wind will allow heat and process at the local Ethanol plant to be powered with Green Ammonia.
Ammonia burning gas turbines and diesel engine conversions to ethanol and straight Green Ammonia is coming. www.exactrix.com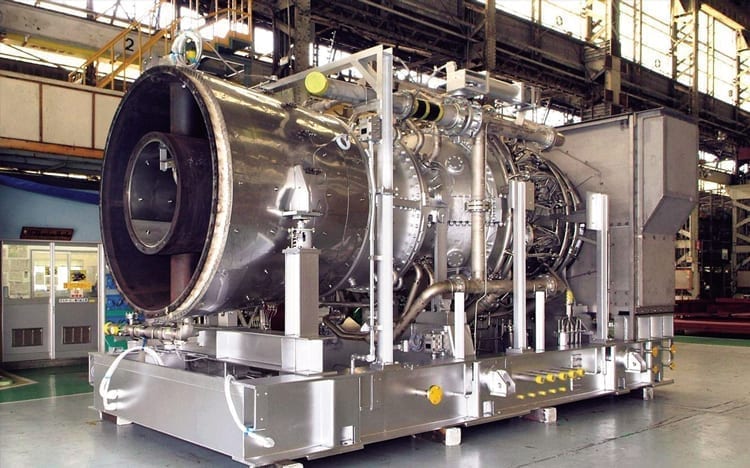 Diesel engines can also be converted to green ethanol by Clear Flame Technologies. https://www.dtnpf.com/agriculture/web/ag/news/business-inputs/article/2020/10/14/clearflame-truck-engine-can-run-test
In fact our economy could be supercharged by providing Green Ethanol locally. North America's security is greatly improved by avoiding the mega refineries. "
https://www.powermag.com/mitsubishi-power-developing-100-ammonia-capable-gas-turbine/
---
Do Gold Mines Need A Better Way To Make Power In Remote Areas?
7.5 MW of battery storage for gold mine
By Jack Burke05 October 2021 2 min read
System integrates hydroelectric power stations, 36 diesel generator sets
Barrick Gold Corp. and Caterpillar dealer Tractafric have installed 7.5 MW of battery energy storage capacity for the company's microgrid at the Kibali gold mine in the Democratic Republic of the Congo (DRC).
Tractafric's solution deploys the battery energy storage and Cat bi-directional power inverters (BDP) to provide grid stability, while the Cat Master Microgrid Controller is designed to seamlessly integrate up to 45 MW of power generated by three hydroelectric power stations and 36 Cat 3512 diesel generator sets. Barrick has also employed Cat Connect Remote Asset Monitoring for the real-time collection and off-site monitoring of performance data.
The Caterpillar grid stabilizer offsets the cyclical loading of the winding plant to reduce the spinning reserve requirement, which decreases annual diesel consumption by approximately 3 million l and the associated carbon dioxide emissions by an estimated 8 kilotons, the companies said.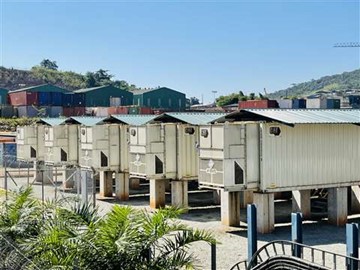 Corporan has collaborated with Cat dealer Tractafric to install 7.5 MW of battery energy storage capacity for its microgrid at the Kibali gold mine in the Democratic Republic of the Congo (DRC).
"This project required an exceptional collaborative effort between Caterpillar, Tractafric and the Kibali technical on-site team who had to make use of innovative remote technologies to commission the system during the COVID-19 pandemic. The result is continuous, reliable power for the Kibali mine generated at the lowest unit cost rate through maximum renewable energy penetration. We are investigating options to improve on this blend," said Rousseau Jooste, chief engineer for Africa and the Middle East for Barrick Gold Corporation. "Barrick is committed to collaborating with host governments and local communities to transform natural resources into sustainable benefits for all stakeholders. We are particularly encouraged by our inclusion in the Dow Jones Sustainability World Index for the past 13 consecutive years."
Located in the DRC province of Haut-Uele, the Kibali mine is one of the largest gold mines in Africa. Barrick operates Kibali in a joint venture with AngloGold Ashanti and the Congolese parastatal SOKIMO. Commissioned in September 2013, Kibali produced 808 000 ounces of gold in 2020 from open pit and underground integrated mining operations.
"Improving the quality of power at a lower cost is a key business driver for customers," said Julien-Christian Chaumond, mining director and group sales director for Tractafric Equipment- Energy & Transportation. "The configuration of a power system featuring grid stabilizers illustrates how the technical expertise of Tractafric Equipment and the advanced technology of Caterpillar deliver sustainable hybrid energy solutions that supply cleaner and more stable power to customers while reducing costs."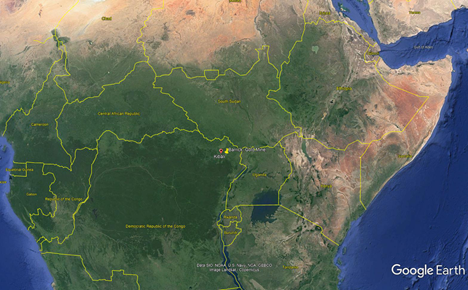 About $2 Billion per year at current market price in the Congo.
---
From: Guy Swanson, Exactrix, Green Play Ammonia.
Let your Wind Power Ammonia Energy team know that we have a Senior Project Engineer on staff for Green Play Ammonia, Yielder NFuel Energy.
You will be communicating with Nathan Crary. He is a Pacific Northwest native.
If you need quick answers he can help you calculate storage needs or how to gear up to the Heavy Hydrogen, NH3.
Nathan has a variety of engineering experience including: Ammonia Research, Wind and PV Systems Engineering, and all types of Energy Storage Systems.
He also has 6 years experience at Daimler Trucks North America with design and manufacture of truck electrical systems that allow us to appoint him Senior Project Engineer with Green Play Ammonia.
His wife is also a technical purchasing agent for KeyTronic® in Spokane and they have 2 daughters.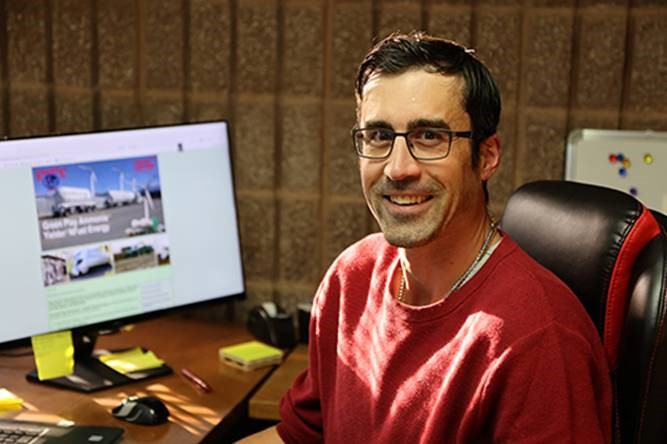 Nathan Crary
Senior Project Engineer, Green Play Ammonia.
Cell 509-944-1540 cell.
509 254-6854 office
nathan1@greenplayammonia.com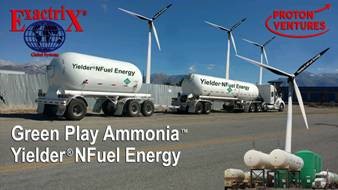 Factoid: Don't forget Yielder NFuel Energy can store about 1 Gigawatt of wind power on 60 acres using NH3 pressurized storage.
The cost in turnkey mode is $136 million for storage in common pressure vessels.
The safest way to store off peak power with recyclable materials common to our North American economy.
Factoid: 2025 is the Mitsubishi deadline for Ammonia Powered 50 Megawatt turbines. Allowing local delivery of gridless power along the interstate system.
Green Play Ammonia™, Yielder® NFuel Energy.
Spokane, Washington. 99212
www.exactrix.com
509 995 1879 cell, Pacific.
Nathan1@greenplayammonia.com
exactrix@exactrix.com